Our PhD students work on various topics using lidar data mounted on backpacks or UAS/drones for scientific analysis of e.g. forest or individual tree structure. Such data have a huge potential for research but can also be used for art on shirts! Three of our PhD students, Julia, Sofia and Antonio, work on trees and lidar and also got a hammock for their office to read articles or relax from coding. This lead to the idea of creating fantastic shirts with "hammock science" and using their very own lidar point cloud of trees.
Great to see the results of their science and friendship on t-shirts during our boulder work outing!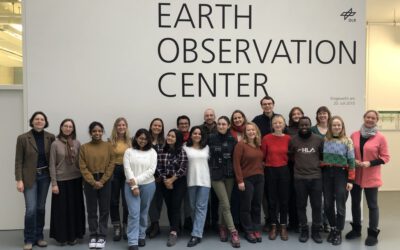 As part of the lecture by Claudia Künzer all EAGLEs of her course also visit the Earth Observation Center of DLR in Oberfpaffenhofen and listen to various talks by remote sensing scientists working in Oberpfaffenhofen: Patrick Sogno, an EAGLE alumni and also PhD...