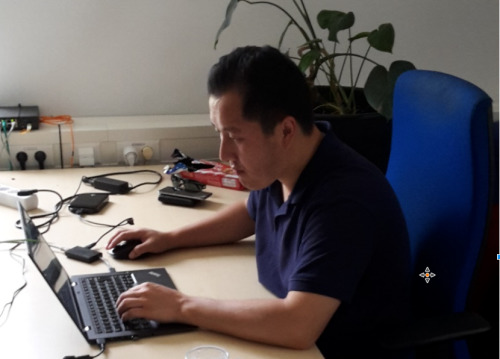 In June and early July, two guest scientists were invited to the University of Würzburg, Department of Remote Sensing for training and cooperation purposes within the framework of the project "Central Asian Water" (CAWa).
Sherzod Zaitov is employed at the SIC ICWC (Scientific-Information Center of the Interstate Commission for Water Coordination of Central Asia) in Taschkent, Usbekistan which the closest collaborating institution in Uzbekistan. Abdikaiym Zhiyenbek (photo) is working for the CAWa project at the German-Kazakh University in Almaty, Kazakhstan.
Both guests are supporting the CAWa project in their countries to implement and make accessible the research results in the region. The aim of their visits in Würzburg was to validate land use classifications from remote sensing data by means of in situ field crop observations, while at the same time integrating training data into the further improvement of classifications and efficiently planning the field campaigns for this year.